Our Story
We first saw each other at a library where Priya was working part-time. We caught each other's eye and there was an immediate chemistry between us. We fell in love and grew our relationship over the next six years.
Rajeev and Priya completed their graduate studies and moved to Texas. Having tested our relationship over time and distance, we knew we were ready to be married, and our families were over the moon that we found our soulmates. Shortly after, we moved to Chicago for work and have lived here ever since with our adorable 3-year-old dog, Milo.
Since we married, we have had a deep desire to be parents and to love and nurture a child. We tried for several years to have a baby but were not able to. We have so much love and laughter in our hearts, we can't wait to share this with your child and grow our family through adoption.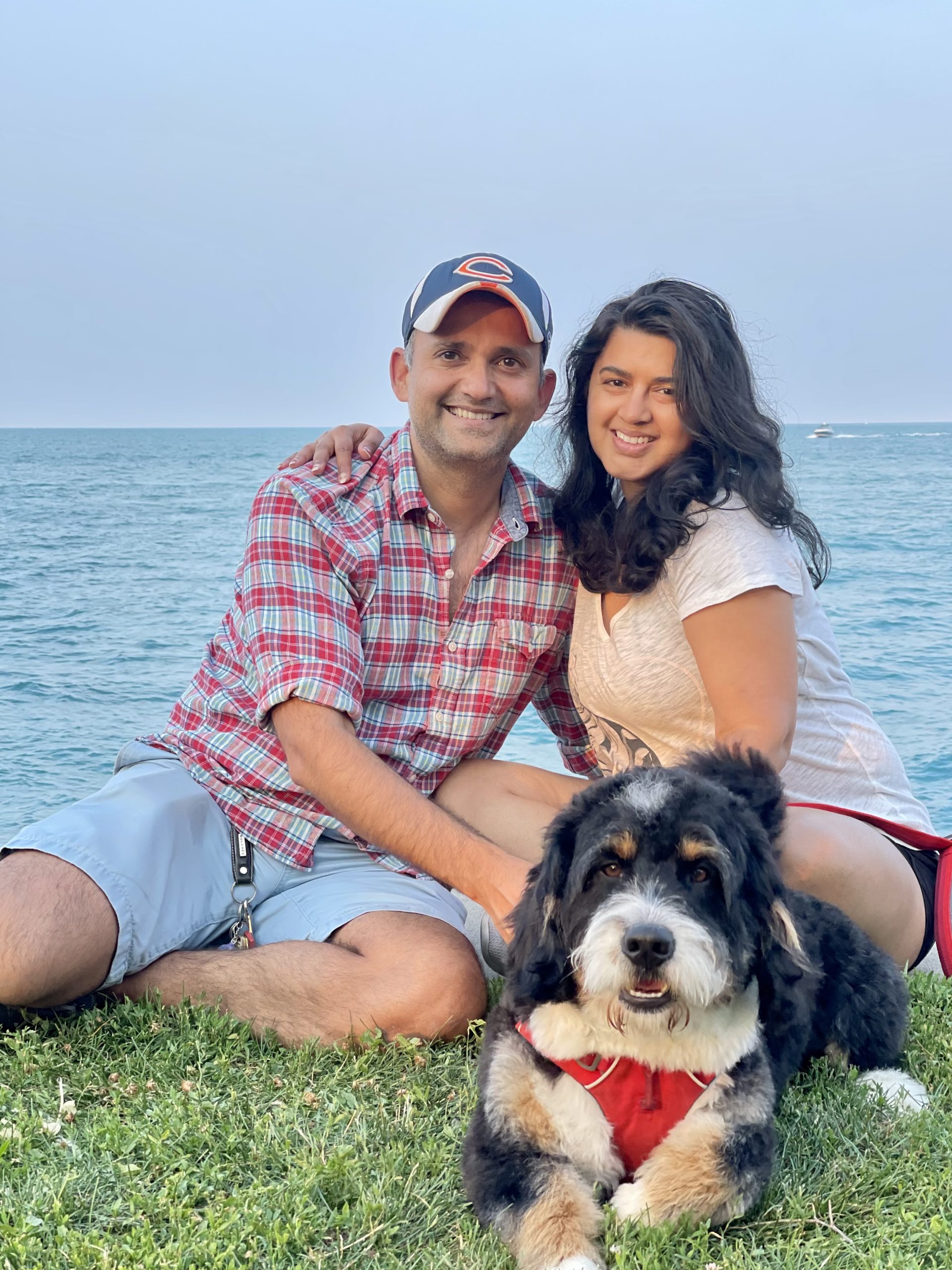 Our Village
Our life is full of beautiful connections with family and friends. We are very close to our parents, siblings and their families. Our family lives in the US and India. While we may be separated by distance, we have maintained a very close loving relationship with them through daily contact, frequent visits and family vacations. We are fortunate to be very much a part of the lives of our nephews and niece, who showed us even more how much we want to be parents.
We have chosen to build genuine friendships from all cultures and ethnicities as we both strongly value diversity in our lives. In the past several years we have shared traditions, joys and griefs with our friends that have strengthened our bonds. Both of us are deeply engaged and connected in our community in Chicago. Our entire community will be a very welcoming village to our child who joins our family.
About Priya, by Rajeev
I fell in love with Priya as she is genuine, warm, caring and had so many interests – her love for dance, her constant pursuit to learn and grow, her desire to embrace cultures around us in Chicago and the world. She compliments me in every way – she stays active and pushes me to balance my work-life, helps plan for our healthy meals as a family and allows me to cook up a "storm" that she cleans up after; she signs us up for dance classes or fun travels so I can enrich myself with things I would not dare and now cherish.
I know she will be an amazing mother as she has a heart so pure and big. I have witnessed how amazing she is as an aunt to our nephews and niece, a godmother to our friends' children, and the best mama to our "fur baby" Milo. Priya advocates strongly for social justice, reform and equity through her work and volunteering. She is truly beautiful – inside and out – and the life partner with whom I dream to grow our family.
Our family and friends adore Priya! She is genuine, generous and I can assure you that she will raise your child in our forever home with unconditional love.
About Rajeev, by Priya
I fell in love with Rajeev for his love of life, his caring and loving nature. He is fiercely loyal and loving to me and our extended family – our nephews, our parents, our siblings, Milo and our village of friends.
Rajeev is my best friend. The days I feel down and upset, I know Rajeev is going to be by my side comforting me through love, hugs, and also making me wonderful meals. Rajeev has always been the calm one in our relationship.
He is grounded, practical and at the same time, always ready to have spontaneous adventures. Rajeev can break into a fun dance as soon as Bollywood music starts playing. I am lucky because Rajeev has the love of cooking from his Mom. He loves to host family and friends and cook home-cooked delicious meals.
I know Rajeev is going to be an amazing Dad because when he commits to a relationship or a goal, he will go all the way to make sure that it is meaningful and successful. He always shows up for the people he loves.
Our Home
We chose to live in a beautiful, residential neighborhood in Chicago because of the diversity in the area, as well as access to parks, schools and restaurants with cuisines from all over the world. We love taking walks with our dog Milo in our neighborhood and being part of a community with families of many cultures and heritages.
Our home is a fenced-in single family home on a tree lined street. Our home is bright and sunny and has five bedrooms and four baths. Our family room is wonderful to learn and play. We have an open living area and kitchen so that we can always keep a careful watch, a dedicated room that will serve as a nursery, a backyard to play with Milo and a patio where we plant herbs, flowers and grill!
Our Life
We love preparing healthy home cooked meals and relaxing at home in the evening. One of the perks of our schedules is that we are often able to sit down and eat dinner together as a family.
In the summer after dinner, we love taking walks in our neighborhood and enjoy an occasional stop by at an ice cream store. In winters, we make our place cozy with blankets by the fireplace, Christmas decorations, play jazz music and play board games at home.
We are passionate about travel, dance and cooking. The threads of these values tie across many aspects of our life. Together, we have enjoyed our travels to different parts of Europe, Central and South America, India and within the USA. We often take trips to Spanish speaking countries and immerse ourselves in the culture. We also love taking trips to the mountains and local trips to the lakeside Michigan with our dog, Milo. We believe that travelling creates connections, an understanding between cultures, and breaks barriers.
We would love to nurture the love of travel, outdoors and nature in your child and hope to create beautiful immersive travel experiences together!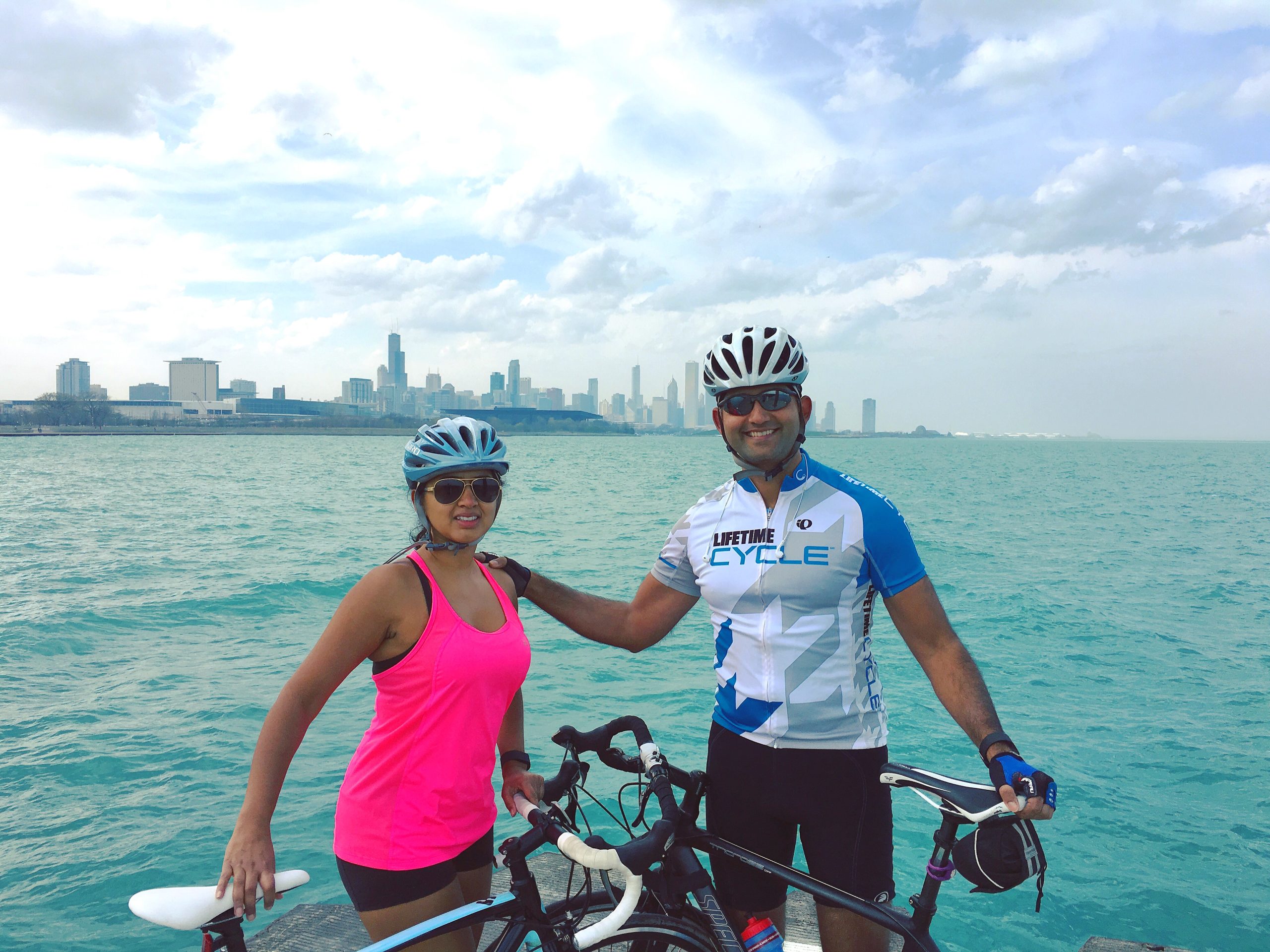 On Parenting and Adoption
As you consider what is best for you and your baby, we can't imagine all the considerations you are grappling with right now. If you decide adoption is your plan, we make this commitment to you: We promise to provide your child with a forever home with unlimited love, safe space for tears and brave space for their story, open and honest communication and a pathway to explore their passions and a productive future. We promise to honor your story in your child's story at every milestone of their life.
Our parents have always given us love, guidance and support and provided us with a sense of security and structure. They instilled the importance of family, education, healthy lifestyle, honesty and concern and kindness to all living creatures. We hope to instill the same values in our child.
We know that parenting through adoption and being adopted can be complex and multilayered. Rajeev has personal experience as his family welcomed and raised his cousin, from the age of three. This experience has built a deep appreciation and understanding of sharing and caring. We will do everything on our part to provide strength and resilience and to honor the culture and heritage of your baby. Finally, we promise to meet you where you are in your life. We welcome an open adoption now or at any time in the future when you feel the time is right.
Warmest regards,