Hello! We would like to thank you for taking the time to read our profile. This is likely a difficult time for you so the fact that you are even reading our profile means so much to us. We hope that you will enjoy a peek inside our lives and enjoy getting an idea for the type of people we are and the type of parents we are to Harper.
Our Story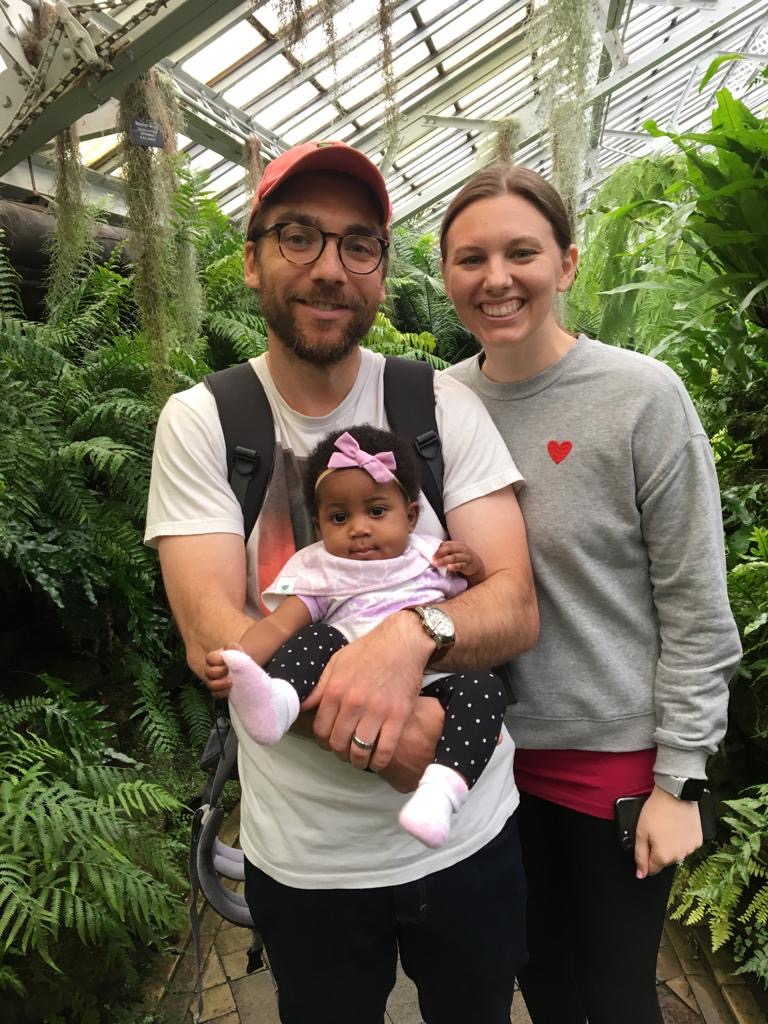 We met in graduate school in Tampa, FL when we were 23 years old. It was love at first rude interaction. Liz was in the middle of giving a presentation in front of the whole class when Matt rudely and loudly interrupted her. Shortly after this (and I can only assume against her better judgement) Liz agreed to go on a date with me. After dating for over five years we got engaged in New Orleans on a family vacation with Liz's whole family. Matt proposed on his birthday, at dinner, to really throw Liz off. He picked epic timing to have her pull out the ring just as the restaurant came over with a birthday hat and song. It has always been a story that brings lots of laughs when we tell it. Right after getting engaged Matt was transferred to Chicago for work and Liz followed finding a job too. We got married in Chicago in 2013 and have been here ever since.
In May of 2019 we adopted our amazing daughter, Harper and we are so excited to add to our family through adoption again! We both come from large families and we always knew we wanted at least two children. Harper loves being around other children and is so excited for a sibling. She is a social butterfly and is the unofficial greeter at daycare for all the parents and children that come in each day.
About Liz
Liz is Canadian and was born in Toronto. She is the oldest of four siblings. When she was 12 her family packed up everything and moved all the way to Australia! After 12 months of riding kangaroos to school (not really) her family moved back to Canada for a year and then onto Pennsylvania.  Then, after she finished college her family relocated again to Tampa, where we met.  Liz has two sisters, Hillary & Sara, and a brother Brian. Harper has one cousin so far on Liz's side of the family. I am much quieter than Matt and very much so an introvert. Personality wise, we are a case of opposites attract. Matt is the perfect companion because he always makes me laugh and knows how to make me relax. I love spending my free time with my siblings or with our close friends. I love researching new recipes to try out for a Friday night dinner or when entertaining friends. My favorite activity with Harper is our morning walks just the two of us. Mom gets a coffee and Harper gets a treat.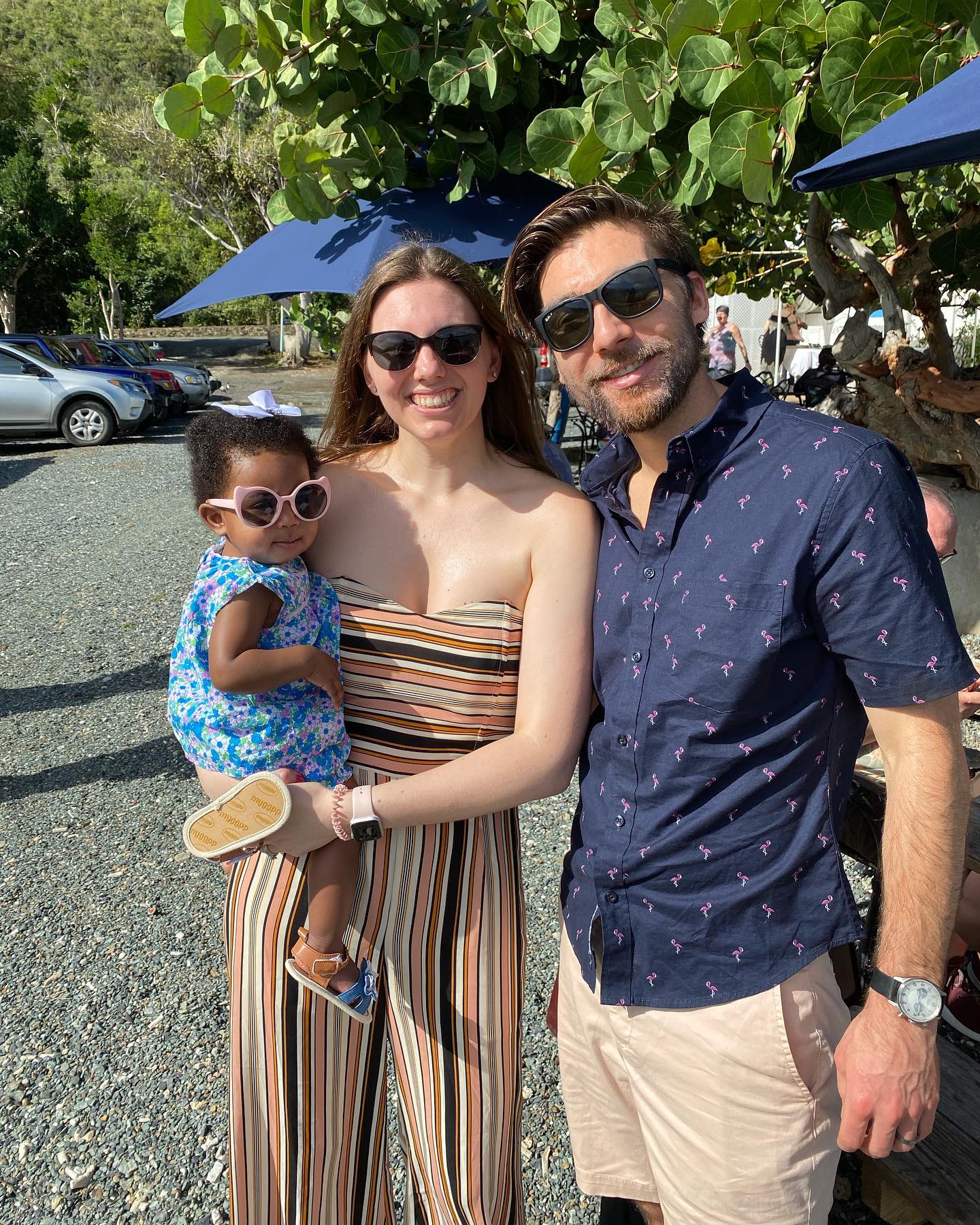 About Matt
I was an Air force brat. I was born on Edwards Air force base. According to my mom it was 116 degrees when I was born.  (It seems to get a little hotter each year she tells the story). From CA we moved to Utah where my brother, Alex was born. After that we were off to England, where we lived for three years. My parents got divorced shortly after we moved back to the U.S. So, from here my list of siblings grows quite a bit. I have two older stepsisters Chris & Jen. In addition to my brother Alex, I have a much younger half-brother Gabe. (I'm 16 years older). Harper has two cousins so far on Matt's side of the family. I would say I am mildly (extremely) obsessed with Star Wars. I have about 10 Star Wars t-shirts. So, if needed, I could wear a different one each day of the week. I own all of the movies. I even own some of the same movies on DVD and VHS. This means yes, we own a VHS player. Harper already has quite the collection of Star Wars gear too.
About Harper
Harper is a curious, adventurous, determined little girl (she started walking at 9 months). She loves our daily walks, breakfast with dad, story time and dancing to music. She is a big fan of Post Malone, John Legend and Tina Turner. She does enjoy some nursery rhymes as well. Right now, we are focused on the ABCs, Old McDonald, Wheels on the Bus, and the Itsy-Bitsy Spider. Harper keeps us on our toes as she likes to climb anything she can find and put almost everything in her mouth. She loves exploring and really examining everything up close. Even though she is very active she is also so sweet. We are already practicing being a big sister by smooching and cuddling her baby doll. We recently went on vacation with Liz's cousin, Sonja and her three children which included a newborn. Harper was very gentle with the baby. She will be a great protective older sister.
Openness
If you decide to choose an adoption plan for your child, we will welcome the level of openness with which you feel comfortable. We embrace the possibility of visits, letters, phone calls, emails, and pictures. We also understand and respect your wishes should you choose otherwise regarding openness. We have great respect, appreciation, gratitude, and love for Harper's birthmother.  Our open adoption relationship has grown and changed over time, and we respect Harper's birthmothers wishes with the level of contact she is ready for at this time. Adoption is a regular topic of conversation in our home. We have books about adoption, and we incorporate reminders of Harper's birth family in everyday life. We talk about how smart and strong Harper is and whether she got that from her birth mom or dad. We talk about her eye color and where her different features come from. We talk about all the members of her birth family. The first color Harper learned to say was yellow because we talk about yellow being her birth mom's favorite color.
Thank you
Thank you for taking the time to learn a little more about us! We are loving, fun, nerdy, and adventurous. We can't wait to see what else life brings our way. We don't know what the future holds, but we can promise we will have a loving home and family for your child.