Home
Hello, We are Lara, Sean, and Maya. We are honored that you are taking the time to get to know our family as you make such an important decision.
For many years, parenting through adoption has been how we hoped to build and grow our family, and it was how our daughter Maya came home 3 years ago. We want you to know that if we are fortunate enough to be chosen, your child will have unconditional love, laughter, adventure, and encouragement not only from us but also from our family, friends, and community.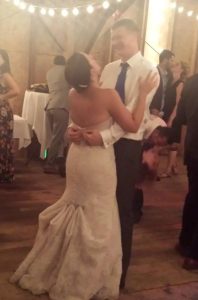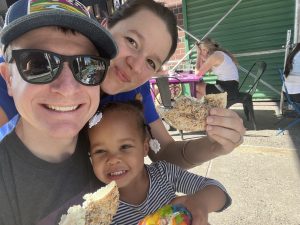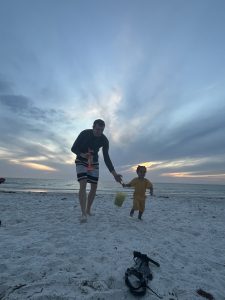 Our Story
We first met while in college, living in Ecuador to study Biology. This was a dream year for both of us since we were aspiring science nerds, who loved adventuring to new places and using our Spanish. While we became friends in Ecuador, we fell in love 3 years later when we ran into each other by chance, while both training to be high school science teachers in the Bronx. One of our first dates was building snowmen in Central Park on a snow day. Teachers love snow days as much as students do!
We moved to Chicago 10 years ago- Lara started work as a cancer genetic counselor and Sean as a high school science teacher. A few years later we got married in a simple outside ceremony surrounded by our families.
We were ever so grateful when our family grew with the adoption of our curious, friendly, and energetic daughter Maya. Being parents has been one of the most meaningful and inspiring parts of our lives and we would feel so fortunate if we can grow our family through adoption again. Maya can't wait to be a big sister and she talks about it all the time!
During our free time as a family, we love to bike the city with the help of our family bucket bike, adventuring to new restaurants looking for the best tacos (Maya and Sean's favorite) or curry (Lara's favorite). We try to spend as much time outside as possible cooling off at the lakefront beaches or testing out the swings at different neighborhood parks where Maya can explore and make friends (her favorite activity).
Sean
I grew up in Michigan, where my family and I spend most of our time outdoors hiking, biking, canoeing, and playing sports.  These activities are still very important to me and I now get to bring along Lara and Maya to share in these outdoor adventures. Maya is my biggest fan at my Sunday pickup basketball games.
For more than a decade now, I've been a biology, chemistry, and computer coding teacher and have coached basketball, gardening, and cross-country. While every day brings challenges, I love teaching and pushing my students to find the reason they care about learning.  It's always a good day at work when you see a kid's face light up as they finally understand the Chemistry behind why their bike has rusted after a salty Chicago winter.
Sean Described by Lara
Sean is the kindest and most thoughtful person, always thinking of others first, and doing what he can to make anyone and everyone feel welcome. He is well known in our family and friends circle for thinking up a multitude of creative activities to make every day more fun, through things like his epic family scavenger hunts or setting up friendly but competitive kayak races at the lake.
Lara
I was born in Dallas, grew up in Minnesota, went to college in Madison/Ecuador, and became an adult in NYC and Chicago, so I've been lucky enough to have had many communities to learn from over my lifetime. The diversity of people and ideas I encountered in my communities sparked my need to question why things are the way they are and led to my interests in science and racial and gender equity.
I work as a genetic counselor at a public hospital in Chicago, helping patients in English and Spanish who have cancer running in their families get extra cancer protection. In my free time, I love to read novels that allow my brain to travel to other worlds, run or hike in the quiet of the trees, travel with family to try food or hear languages I've never heard, and feel the calm of the sunset at our lake cabin with my family on summer weekends.
Lara Described by Sean
Lara exudes positivity and energy in any situation she is in.  She is always brainstorming and organizing fun new adventures; she's at her happiest if she's on a plane with Maya and me to a new place or waking us up early to get to a new local farmer's market.  Her friends and family know that you can always count on Lara to say what needs to be said and do what needs to be done for everyone around her to thrive.
Maya
Maya came into our lives in 2020 and has grown into an adventurous, spunky, and giggly 3 ½ year old. She loves being outside and exploring her surroundings- by collecting leaves and looking for creatures. You can spot her scootering around the neighborhood on our walks with the biggest smile on her face. Some of her favorite things to do includes "cooking tasty treats" with Dad on weekend mornings or planting the vegetable garden with Mom. We can already tell that she will be a great older sister and ally for any future sibling as she makes other kids feel welcome and involved everywhere she goes. She also has a hard time not kissing every baby she meets.
What we hope to share with our Children
For us, being parents is about sharing our love, our community, and the many joys of the world with our children so they can figure out what brings them their own joy.
We have encouraged Maya (and plan to encourage her siblings) to explore and develop their imagination, curiosity, and confidence through things like weekend nature walks to collect leaves and seeds or hands-on baking to learn where food comes from. We prioritize daily time together getting fresh air outdoors in our yard or at the park to energize our bodies, eating dinner and talking about our highs and lows at our family meetings, cuddling up to read stories before bed, and allowing time for silliness in every day activities like racing to the bus stop "like cheetahs" together.
We hope that through the possibility of open adoption, our children will know their story and be proud of who they are. We have much love and respect for Maya's birth family and have been grateful for the relationships that have been built and the knowledge it has afforded her about herself. We know that relationships can change over time, so we are open to continuing to navigate what is comfortable for a birth family including space or privacy if they prefer. We are open to exchanging photos and updates and keeping in touch through phone, email, texts, and/or in-person visits. We hope that you will agree to share in this journey with us in a way that makes you most comfortable.
Desde el inicio, cuando nos conocimos mientras estudiábamos en Ecuador, la cultura latina y el idioma español han sido muy importantes en nuestras vidas. Casi todos los días hablamos con nuestros vecinos, estudiantes, o pacientes en español y valoramos las culturas de Ellos. En su guardaría, Maya ya ha aprendido muchas canciones y dichos puertorriqueños y su comida favorita es el arroz y frijoles de su Cuidadora. Aprendimos español por nuestras familias anfitrionas Ecuadorianas y nuestros estudiantes que corrigieron nuestro español mientras que les enseñábamos inglés. Mejoramos nuestros español en México trabajando con una programa para ayudar mujeres desarrollando sus negocios mientras que desfrutando los colores y sonidos bonitas de los Calendas en los calles de Oaxaca. Ojalamos vivir otra vez en un país latino en el futuro para compartir y sumergir a nuestros niños en estas experiencias culturas. Lo creemos que es muy importante que nuestros hijos tendrán la oportunidad de elegir ser bilingües y entiendan la historia y cultura de todas sus familias.
Lara & Sean Video
Thank you
We appreciate you taking the time to get to know us, and our hopes and dreams for our family. We understand that you may have some difficult choices ahead of you and we hope that you find some peace in whatever decisions you make.
Thank you again for considering us.