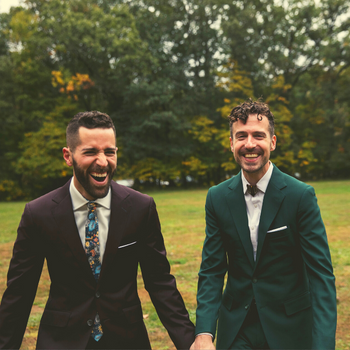 All About Cornell, From Brian
I've never met a more charismatic, caring and thoughtful person. Cornell has an inner intensity that captivates you; he's also an awesome listener. He is bright and curious and learns new skills with astonishing speed. Cornell's community of friends and family cares about him deeply, and he is equally invested in their lives. I love watching him goof around with so many of the kids in our lives; it makes me know he's going to be a great dad.
All About Brian, From Cornell
Brian is kind, compassionate and big-hearted. He finds joy in building community and togetherness; he's the kind of person who helps a loved one blossom to be their best self. He is a fierce champion of justice and equity and always strives to lift up those who need a helping hand. As a dad, he'll make sure our child's life is filled with laughter, good food, and music every day.
Our Story
Food brings whole communities together — and for us, food was a core passion that brought us together. From our first date in 2014, we both knew that there would be many more. We discovered mutual interests like cooking, biking, theater, concerts, running and travel. Cornell proposed to Brian at a favorite cafe in October 2016; we wed at campground surrounded by family and friends in October 2018. We're so lucky to have had each other through difficult and joyful times. We can't wait to extend that love to our child!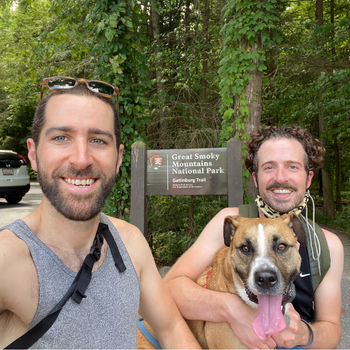 Our Promise to You
Our child will be the center of our lives. We are committed to celebrating you as we create a space for our future child to grow and learn. We want to make sure that our child knows about their roots. We will work hard to make sure their identities are reflected and celebrated in the community of people around them. We promise to honor the love that you are showing by making this choice. We'll make sure our child feels that love every day.
We chose adoption as our path to building a family because we want our child to have a relationship with their birth family. Our goal is to communicate and connect with you in a way that works for us all. Know that we will always be here to explore an open connection between our families! You will always be an important person in your child's life. We'll honor that.
Our Families and Community
Cornell's got a big, loving family that has regular gatherings with lots of food, kids and laughter. Brian's got a smaller family but deep relationships. We're lucky that all our parents, and many of our extended family members, live within an hour's drive of our home.
Our friends, neighbors and coworkers fulfill us and complete our community. This chosen family brings an amazing variety of diversity to help us grow and learn. We are lucky to have a wide network of people to support us today and for the rest of our lives.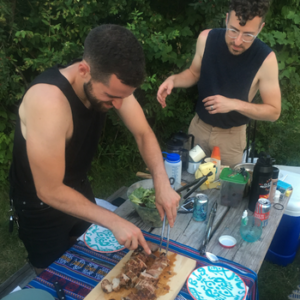 Our Home and Neighborhood
We bought our home in July 2017; it's a cozy three-bedroom home that was built in the early 1900s. We love its open layout, gardener's paradise of a back yard, and the neighbors around it, who are some of our closest friends. In December 2017, we adopted Harry, a dearly sweet and playful pup, from a shelter. He loves snuggling and cuddling, chasing other dogs, long nature walks and hikes, and kids. He's going to be a great, furry older brother to our child!
Our neighborhood is on the northwest side of Chicago. We have the ability to travel anywhere in the city easily, but we're able to come home to a residential, quiet, kid-filled neighborhood. We are within walking distance of two big parks and an elementary school that has a strong reputation.
Our Child Care Plan
We'll both take several months off of work at the beginning of our parenting journey to create a strong bond with our new baby. After that, Brian and both sets of grandparents will care for our child during the day on a routine schedule. We are excited to build a balance between our family and our careers that centers our child and their needs.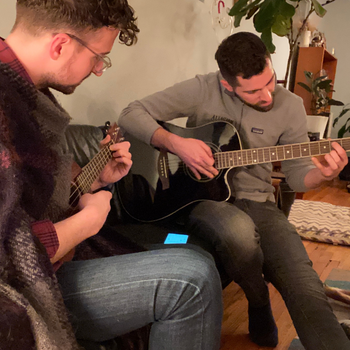 Thank You for Your Time
We haven't met, and we may never meet, but we have a lot of compassion and empathy for you. You must be a kind and thoughtful person to be on this journey. We hope that our story, our photos, and our message has touched you (and maybe even made you laugh once or twice, even in the heaviness of this moment). Thank you and best wishes to you.