Dear Expectant Parents
Hello! We are Liz and Connor. Thank you for taking the time to read our profile and get to know us a little bit. We hope this gives you a good idea of who we are and the family we have and hope to build.
Our Story
We met at a wedding on New Year's Eve in 2015. We were both out on the dance floor, and Liz noticed Connor dancing nearby. Impressed by Connor's moves, Liz introduced herself, and we hit it off. We got married in 2019 and now live with our dog Gus in our home in Chicago.
In 2020, Liz gave birth to our son, who passed away at the hospital shortly after birth. We love and miss him, and find ways to honor him in our everyday life. While this loss was unexpected and devastating, it has shown us the truly amazing community we have supporting us: in family, friends, co-workers, and neighbors. It has also reinforced in us our desire to build a family, and is what has brought us to you today.
Our future child will be welcomed with love into a family of aunts, uncles, and cousins just down the street, grandparents a short trip away, and extended family around the country and across the world. They will be surrounded by our support network of friends and colleagues of various races, religions, cultures, and backgrounds.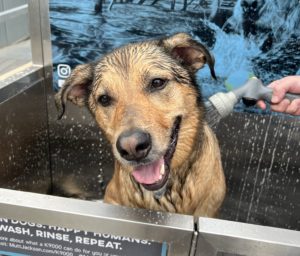 We hope to raise a child who is confident in themself and curious about others, interested in learning from and exploring the world around them. We hope to show our child a world full of wonder and silliness. As a couple, we love exploring, traveling, and outdoor activities like hiking and kayaking. We also both love reading, doing puzzles and playing board games, and most of all, staying home and sitting on our couch with Gus. We will introduce our child to these interests, and let them develop their own.
Our Home
We live in a wonderful 100+ year old, three story, four bedroom house with a backyard and garage. On a summer day, our block is filled with kids riding bikes, playing in sprinklers, and selling lemonade. Our neighbors take holidays very seriously, so on Halloween the porches and front yards are covered in jack-o-lanterns, inflatable zombies, and fake spiderwebs. This last Christmas, we had a tunnel of twinkling lights stretching along the sidewalk on both sides of the block.
The best part about our home, though, is its proximity to family. Liz's sister lives seven houses down on the same block, and Liz's older brother lives around the corner. This means that all five of our nieces live within walking distance, and we see them almost every day. We love that our future children will grow up with cousins nearby to play with and look up to. And our nieces cannot wait for a new cousin!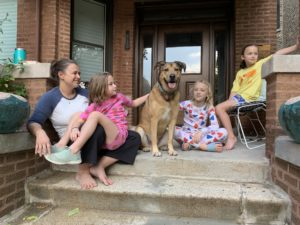 Meet Liz
Hi, I'm Liz. I grew up in Toledo, Ohio with my parents and three siblings. I moved to Chicago in 2010 after finishing law school. I have a large Italian family, and growing up with this big family has made me who I am today.
I love to cook. I love to read, listen to podcasts, and go for bike rides along the lakefront. I am very organized, and love to plan and make lists (then check things off my lists). I enjoy gardening, and have recently started my own herb and vegetable garden. I am a huge Michigan football fan, and love to attend games with my family (we throw a great tailgate!). I like to sing along to Broadway musicals and Disney soundtracks, and am a big fan of karaoke.
Meet Connor
I like to think of myself as a light-hearted, adventurous guy who is always looking to learn more about the world. I was born and raised in the suburbs of St. Louis (Go Cards!). I was brought up with a loving family who put a lot of emphasis on education and exploration. I hope to impart similar values into our children as I want them to be able to explore the world and find out what brings them joy.
I work in the academic healthcare space as a finance manager at the University of Chicago, which means educational discounts for our future children!
On Openness
Adoption will be celebrated in our home, and we want our child to know and understand where they come from. While our circumstances are different, we can relate to the experience of being physically apart from our child after birth, and wondering where he might be and if he's okay. What we promise you is that we will do everything we can to make sure your child is loved and supported, is safe and cared for. And to the extent you are comfortable with it, we promise to keep you informed and involved along the way so that you don't have to worry.