We are Bobby and Brandi, parents of our little darling Bianca. We are thrilled to continue building our family through adoption. Thank you so much for taking the time to get to know us. We admire your strength and courage to consider adoption for your child. We hope that through our story you see what a supportive, nurturing, warm and loving home we will provide. We can't wait to meet you and continue this journey of life together.
Our Story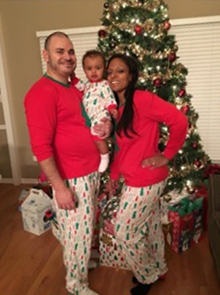 Welcome
We met in 2010 through a mutual friend and have been inseparable ever since. We both enjoy a healthy lifestyle that includes being active. Thus, we love exercising at our local gym and in our home. We also enjoy taking our daughter Bianca and our fur babies Bella and Beau out for walks. We cook meals together (which often entails Bobby grilling while Brandi prepares the side dishes). We also watch a few reality and drama TV shows. Bobby is not much of a dancer so we started taking salsa lessons. We love to travel both domestically and internationally when time and finances allow us to do so. We enjoy  experiencing new places and things.  We recently attended Cubs Spring Training in Arizona. Now all we need is one more little one to complete our family and experience our life with. We look forward to taking both of our children on family walks and to family celebrations. We are excited to watch our children grow together.
About Bobby by Brandi
Bobby is the most amazing person I have ever known; my best friend. He is selfless and loves me unconditionally. He will give anyone the shirt off his back, which in turn makes everyone love him. He is a very hard worker and a perfectionist. If he does not get something just the way he wants it, he will not give up trying until he does. Bobby is also my own personal mechanic. He loves fixing cars and makes sure my car is always in tip top shape. He is the Cubs' biggest fan. If there is a game on he will be watching it. He also loves following and watching UFC. He enjoys spending time with family and friends and is wonderful with kids. He often spends hours a day making Bianca laugh. I could not have asked for a better husband and father for our daughter.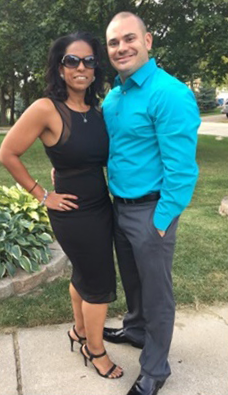 About Brandi by Bobby
Brandi has always been amazing with kids. She is wonderful with our daughter just like I knew she would be. Anything Bianca needs, Brandi is on top of it.   She has a kind heart and will help anyone in need and doesn't expect anything in return. When Brandi is around our daughter you can see the love pouring from her eyes and heart. I know Brandi would feel the same about our second child as well.  Brandi goes out of her way to attend every family and friend function she possibly can. If a friend or family member needs support Brandi is there. Brandi always makes sure she includes everyone when events are happening. She is very hardworking and goal oriented. Brandi is the wife and mother of our child that I have always envisioned. I believe Brandi will instill many of these traits in our children. Brandi and I love being Bianca's parents and we both agree being a family of four would be that much sweeter and our ultimate dream.
About Bianca by Mommy and Daddy
Bianca was adopted through the Cradle in 2017. She is the light of our lives. She makes every day so enjoyable for us. Bianca loves almost every program on BabyFirst TV but her favorite is "Bonnie Bear". Bianca absolutely loves other children. Anytime she sees any of her cousins she's all smiles. Bianca loves to go for walks with her Mommy, Daddy and puppies in either her stroller or her new pink car. We have always planned to complete our family with two children and wanted Bianca to have a sibling to grow up with. Because of Bianca's love for other kids, we have no doubt that she's going to be an amazing big sister.
Thoughts on Openness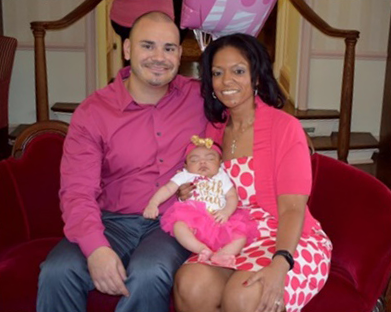 We can only imagine how hard it is to explore an adoption plan. We want to make sure our children know who they are and they have been loved from the beginning. We have kept in contact with both Bianca's birth parents and have had multiple visits with them.  We also both have family and friends that have been touched by adoption (Bobby's grandfather, Brandi's best friend and mentee were adopted.) We understand the comfort level of openness may be different for each of us and we will do our best to make sure that we are all in agreement of what is best for your child. We look forward to you being a part of our lives in any way you feel comfortable.
Thank you
We can't thank you enough for taking the time to learn about us. May you be filled with courage, love and hope as you decide what is best for your child.