Hello!
We are Andrew and Michelle – plus Elvin (cat) and Blue (dog). Thank you for taking the time to learn about us and our journey. We have a love for grand adventure, traveling the globe and doing our part to make the world a good place. We look forward to sharing our love and joy with our future child.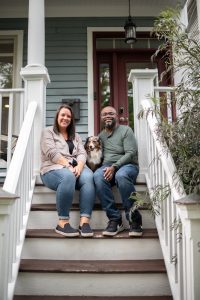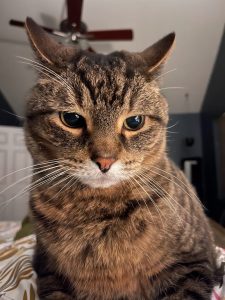 Our Story
In 2014, we swiped right on a dating app and had our first date at a sushi restaurant. Initially, we were drawn to each other's ability to listen, desire to see the world and love for Chicago. Andrew pulled the surprise of a lifetime in 2015 when he proposed on the beach in Kauai, Hawaii while we watched the sunrise. We married in the city we love most, Chicago, surrounded by our family and friends in 2017 and we are now excited to expand our family through adoption!
Our relationship is based on open communication, honesty and the promise to always show up for each other. The ability to be honest about things in the moment is our greatest strength as a couple. We actively prioritize the things that are important to us and to our relationship. We are excited to create small, memorable moments as a family and cannot wait to share this beautiful life with our future child.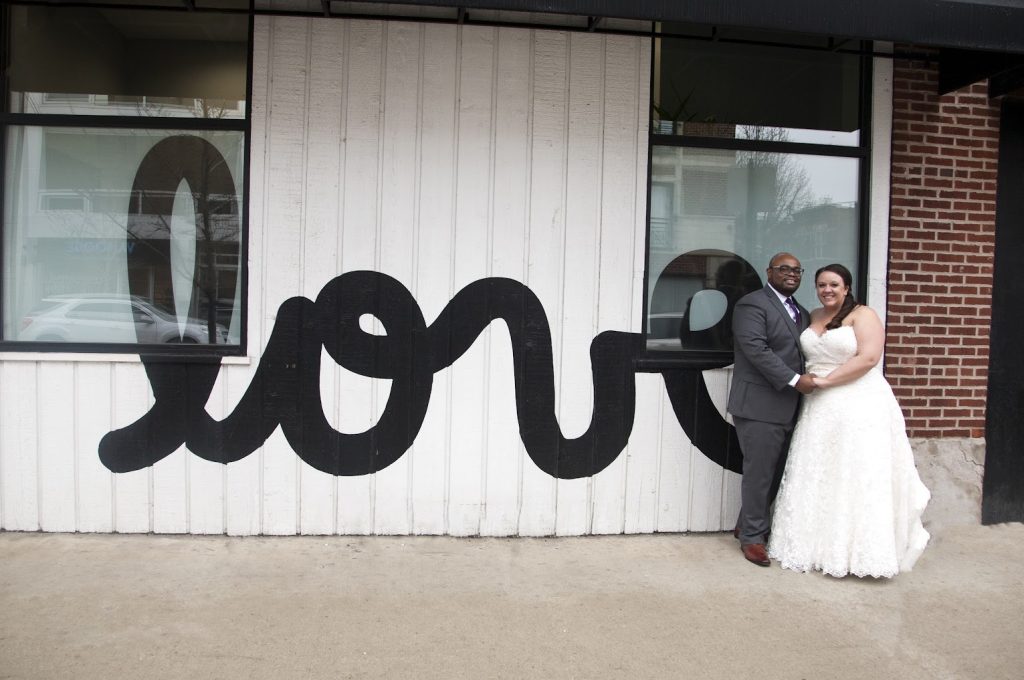 Adoption, Parenting and Openness
When we met, we were very open about what we wanted out of our relationship. We discussed having children early and often and from the start agreed that should we ever expand our family, we would adopt. Adoption has always been our plan, so when the day came when we decided we were "ready," we were already on the same page.
Love, motivation, acceptance and inspiration will be the foundation of how we parent. We want our child to know they can be whoever they want to be in this world. We want them to understand why the world is the way it is and to actively teach them to reject hate and prejudice. We want our child to understand our belief system, but we will also support them in being curious and forming their own opinions. We want to incorporate your child's identity and culture into our home and help them to understand where they came from. We will respect any information that you chose to share about the child's history, background and identity and will strive to share that information as appropriate and in line with your wishes.
We hope to maintain open communication with you, however that might look throughout the years ahead, based on what works best for all involved.
Meet Michelle
For fun, I enjoy my monthly book club with friends, yoga, adult ballet classes, spending time with family and tending to my many plants around the house. I am passionate about volunteering and have been an active member of the Junior League of Chicago since 2017.
Becoming a parent seems like it will be the most challenging, yet most rewarding responsibility I will ever experience. I look forward to loving and nurturing this child, sharing my life experiences and showing them the world. I want to share my joy and passion for a happy life and my desire to travel. I believe the world needs more empathetic, determined and loving people and I am grateful for the opportunity to help raise a child with those values.
Michelle in Andrew's Words
What I love most about Michelle is how much she loves and cares for everyone and everything. She has the biggest heart of anyone I know and has compassion for everyone regardless of their situation. She gives to those in need, never passes judgment nor does she look for praise from others. Additionally, she absolutely does not tolerate hate or bias and will speak up in every situation. These things that I love about her are also the reasons that I think she'll make a great parent.
Meet Andrew
These days I am passionate about my job, cooking and experimenting in the kitchen, woodworking and other crafty projects. I am currently in law school, so a lot of my free time goes toward studying, but outside of that I enjoy tinkering with some woodworking projects or making something new and interesting in the kitchen. I also really love movies and will gladly rewatch The Dark Knight, Shawshank Redemption or Die Hard.
I want to be a parent because I have a lot of love and knowledge to share. Michelle and I are very fortunate and we want to be able to share our good fortune with a child. I also think that a child can teach me new and interesting things, because this old dog is always willing to learn a new trick.
Andrew in Michelle's Words
When I met Andrew, I could sense he was more intelligent than anyone I had ever met and had a heart of gold. He listened when I spoke and seemed genuinely interested in who I was. Andrew is always my biggest cheerleader and wants only the best for me, whatever it takes. His love and commitment expand beyond me to all people in his life, which will make him a great role model and father. Andrew is committed to being his best self and sharing his love of education, travel and random facts. He is caring, committed and a man of character.
Our Values
Traveling 
Outside of enjoying our home city of Chicago, we value travel and have explored over 40 cities around the world together! We feel fortunate for these experiences and that we get to adventure together, which is our favorite thing to do as a couple.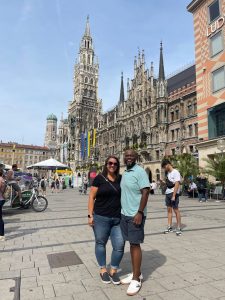 Health
We also value health and have made that a big priority in our lives. In early 2023 we supported one another through having weight loss surgery and choosing a healthy future. This healthy lifestyle has blended into all parts of our life. Going through this experience together has given us a new appreciation for all the things we enjoy! We look forward to sharing the value of a healthy lifestyle with our future child.
Family
Over the years, we have prioritized blending our two families. We have vacationed together, spent holidays together and celebrated life together. Our mothers have a special relationship, which we are very grateful for. Our families' strong connection will only enhance our child's life in the years ahead.
Thank You
Thank you for taking the time to learn about us and our journey. Today and always, we hold you close in our hearts and wish you all the best. May you feel supported and cared for as you make the best decision for you and your child.
With gratitude and respect,